To report improper discharges to storm drains on Western Michigan University property:
Rainwater and snowmelt on Western's campus flow into the storm drain system through curb inlets and catch basins. All dirt, oil, trash, and salt from roads, parking lots, and sidewalks are also swept into these drains. The water from main campus flows through 18 miles of underground pipes until it empties out in one of several places. Some water empties into Goldsworth Valley Pond which drains into Arcadia Creek and finally into the Kalamazoo River. Some pipes empty directly into Arcadia Creek, which lies on the south edge of main campus by Stadium Drive. Water also flows into the city's storm drain system that empties into Arcadia Creek before flowing into the Kalamazoo River. No matter where the stormwater comes from on campus, it all ends up in the Kalamazoo River, and flows out to Lake Michigan. A map of the campus' storm drain system and what direction water on campus flows is available to help understand how water moves throughout WMU's campus (MAP).
A watershed is defined by the Stormwater Manager's Resource Center (SMRC) as ALL the land area that contributes runoff to a particular point along a waterway. Since stormwater from WMU's main campus flows to Arcadia Creek we are part of the Arcadia Creek Watershed. The entire Arcadia Creek watershed is part of the Kalamazoo River watershed, which is part of the Great Lakes watershed. The Kalamazoo River watershed stretches about from Jackson, Michigan to Saugatuck and comprises a total of eight counties.
For more information visit: http://www.kalamazooriver.net/pa319new/index.htm. WMU also has the Asylum Lake Preserve http://www.wmich.edu/asylumlake/index.html and Parkview Campus that lie in the West Fork of the Portage Creek Watershed.
WMU currently has a general permit for stormwater discharges issued by the Michigan Department of Environmental Quality that is designed to limit contamination that is discharged and protect surface waters. The primary goal of WMU's permit is to improve water quality in our area (i.e. Arcadia Creek and subsequently, the Kalamazoo River).
WMU must participate and work with other entities in the watershed to develop a watershed management plan (WMP).The approved Portage and Arcadia Creeks watershed management plan is located at http://www.kalamazooriver.net/pa319new/index.htm . WMU must also provide annual reports on the status and effectiveness of the permit. The general stormwater permit requires WMU to (a) work with local stakeholders in the development of a watershed management plan, (b) develop and implement an illicit discharge detection program on WMU's campus, and (c) develop and implement a public education program. To meet these requirements, WMU has been actively involved in the Arcadia/Portage Creek 319 Project and the Kalamazoo County Stormwater Work Group. The goals of the watershed management development project are:
The Division of Environmental Safety and Emergency Management, Maintenance Services, and Landscape Services are primarily involved in implementing the requirements of the permit. In the summer of 2002, Maintenance Services began implementing an illicit discharge detection program by surveying all outfalls during dry weather. If water is draining from these outfalls when there has been no rain, an illicit connection is somewhere in the system. An outfall is defined as the point where wastewater or drainage discharges from a sewer pipe, ditch, or other conveyance to a receiving body of water.
In 2003, WMU installed two signs as educational tools to raise awareness of protecting valuable water resources. One of the signs is located at Oliver Street over Arcadia Creek, which is by the Kanley Track. The other is at Goldsworth Valley Pond, by the bridge.
In June of 2003, WMU began a shoreline restoration project around Goldsworth Valley Pond. WMU's Campus Arborist, Chad Avery, applied for some grant money for the project and received help from students and volunteers in order to complete the first phase of this project. The pictures below show some before, during, and after shots of the pond's shoreline, as well as some of the workers involved in the project. The effort continued with additional grant money and incorporating student projects 2004.
In 2003, in an effort to reduce erosion along Arcadia Creek and flooding of surrounding properties, the height of Goldsworth Valley Pond was raised as shown below. This allowed for the retention of additional storm water and also controlled the rate of flow of water to the creek with the piping installed.
It is important to monitor the storm drains all across campus as well as develop a campus-wide reporting system for suspicious discharges, eliminate illicit discharges, and share our data with others in our watershed who are also working to improve water quality. This ensures that nothing harmful to our aquatic ecosystems or our drinking water enters our state surface waters.
Environmental Health and Safety is active in educating the campus community on the dangers of improper hazardous waste disposal and how to protect our surface water and groundwater supplies. Every person on campus has a role in assisting with the implementation of the requirements of the stormwater permit. See the section entitled "What we can do as members of the WMU and Kalamazoo community" for more detailed information.
There are two piping systems that collect water: a storm drain system and a sanitary sewer system. The sanitary sewers mainly connect to buildings and collect water that is not clean enough to empty directly into local water systems, such as water from toilets, bathtubs, or sinks. This water flows to a wastewater treatment plant where solids are removed and the water is chemically disinfected before being released, safe for fish and riparian wildlife.
Water is one of the basic needs of human beings, and life in general on this planet, and yet it is also one of the most taken for granted. This is especially true in Michigan where there is an abundance of lakes, rivers, and streams. Because we have so much water, it is our responsibility to keep it healthy and clean for now and many generations to come.
It is important to realize that many areas get a portion of their drinking water from rivers, lakes, and streams and that water is also discharged from the waste treatment plant into these water bodies. Therefore, anything we put on the ground will most likely end up in those rivers, lakes, and streams.
Isn't water a renewable resource?
To say that water is a renewable resource is a misleading statement. Water does evaporate from the earth's surface, fall as rain, and evaporate again to continue the cycle. However, most of our surface water is saltwater. A significant portion of the surface freshwater is used for agriculture and as a cooling agent for power-producing equipment. Any surface water that we do drink must be treated first which takes a lot of energy. What we do not get from our surface water, we take from our groundwater supplies, found in aquifers deep within the earth and created by surface water that has trickled down slowly over many years. This water is usually the cleanest and supplies almost all the drinking water to some areas. All of Kalamazoo County relies solely on groundwater for their drinking water supply. Unfortunately, we (in the U.S.) use this water faster than it can be replaced (recharge ranges from 29.6- 97% according to USGS, Open File Report 96-593) and therefore, risk making that resource not easily renewable in the future. However, to curb over-anxiousness, Michigan has more groundwater than almost any state in the U.S.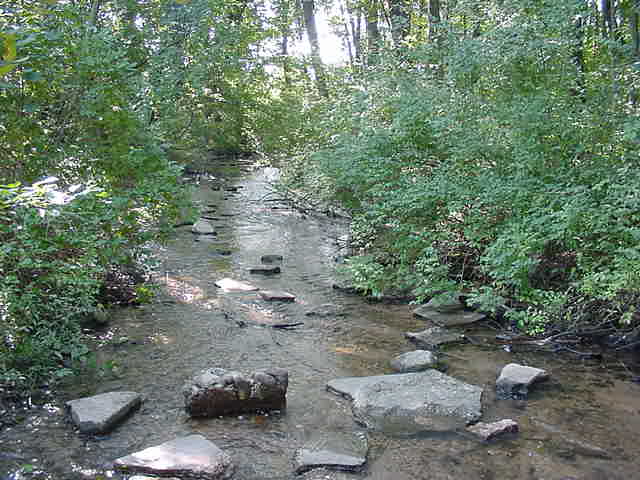 Stream by Asylum Lake
What can we do as members of the WMU and Kalamazoo community?
What can I do as a WMU employee on campus?
· Keep litter, leaves, and debris out of street gutters and storm drains.
· Do not dump wastewater onto sidewalks or roads or in catch basins.
· Dispose of used oil, antifreeze, paints, and other chemicals properly, not in storm drains.
· Clean up spilled brake fluid, oil, grease, and antifreeze. Do not rinse them into the street where they can eventually reach local streams and lakes.
· Do not use more pesticide, herbicide, or fertilizer than is called for in the directions.
· Divert runoff from pavement to grassy, planted or wooded areas of the property, if possible and logical, so stormwater can seep slowly into the ground.
· Do not over-water the grass or other vegetated areas. Excess water will pick up whatever it can (i.e. soil, fertilizers, herbicides, cigarette butts, etc) and run off to storm drains.
· Do not hose down driveways or sidewalks. Dry sweeping paved areas, along with careful trash disposal, are simple, effective pollution reducers.
What can I do as a student or visitor on campus?
Throw trash, including cigarette butts that have been put out, in the trashcan.
Make sure that your car/truck does not leak any fluids.
Pick up trash to keep the campus AND our waterways clean. It will make our campus look cleaner and will help to raise pride in our school.
Properly dispose of household hazardous wastes used in your WMU apartments or residence hall room. Many common household products, (paint thinners, moth balls, drain and oven cleaners, etc.) contain toxic ingredients. When improperly used or discarded, these products are a threat to public health and the environment.
Do not discard hazardous products down any drain or toilet or with regular household trash. If you need to know how to get rid of these materials contact the Department of Environmental Health and Safety (387-5590).
Learn about natural and less toxic alternatives and use them whenever possible.
Be aware of how your actions affect our waterways.
Get involved. There is a lot happening off- and on-campus.
Enjoy our pond and creek and the beauty they provide.
What everyone can do to prevent stormwater contamination
· Clean up spilled brake fluid, oil, grease, and antifreeze. Do not rinse them into the street where they can eventually reach local streams, rivers and lakes.
· Control soil erosion on your property by planting ground cover and stabilizing erosion-prone areas.
· Encourage local government officials to develop construction erosion/sediment control ordinances in your community.
· Use natural alternatives to chemical fertilizers and pesticides. If you must use chemicals, test your soil to determine the right amount. The Michigan State University Extension in Kalamazoo County does soil testing and help to decide what is right for your lawn. They can be contacted at (269) 383-8830 or via email at kalamazo@msue.msu.edu. See also Citizen's Guide to Pest Control and Pesticide Safety.
· Don't hose down driveways or sidewalks. Dry sweeping paved areas, along with careful trash disposal, are simple, effective pollution reducers.
· Compost grass clippings and leaves. Never mow them into the street or allow them to wash into roadways where they will reach storm drains.
· Get involved in the planning and zoning process in your community. That's where the decisions are made that shape the course of development and the future quality of our environment.
· Properly dispose of household hazardous wastes. Many common household products (paint thinners, moth balls, drain and oven cleaners, etc.) contain toxic ingredients. When improperly used or discarded, these products are a threat to public health and the environment.
· Do not pour hazardous products down any drain or toilet. Do not discard with regular household trash.
· Learn about natural and less toxic alternatives and use them whenever possible. Contact your County Solid Waste Management Office for information regarding hazardous waste collection in your area.
· Recycle all used motor oil by taking it to a service station or local recycling center. Motor oil contains toxic chemicals that are harmful to humans and animals. Do not dump used motor oil down storm drains or on the ground.
· Animal wastes contain bacteria and viruses that contaminate shellfish and cause the closing of bathing areas. Pet owners should pick up after their pets and dispose of the wastes in the garbage or toilet.
· Wash your car on the grass so soapy water soaks into the ground or take it to a car wash place. Use a hose nozzle to prevent water from running when not in use (detergents will infiltrate through the soils instead of flowing directly into the creek).
· Minimize or eliminate your use of pesticides and fertilizers on your lawn.
· Using the Kalamazoo County Household Hazardous Waste program for the proper disposal of hazardous materials (http://www.kalcounty.com/hhw/index.htm ), or call 373-5211.
You DO make a difference. Leave our children a healthy legacy.
For more information visit:
http://www.kalamazooriver.net/pa319new/,
http://www.epa.gov/OWOW/NPS/abc.html, http://www.nrdc.org/water/pollution/gsteps.asp and/or http://www.epa.gov/OWOW/NPS/dosdont.html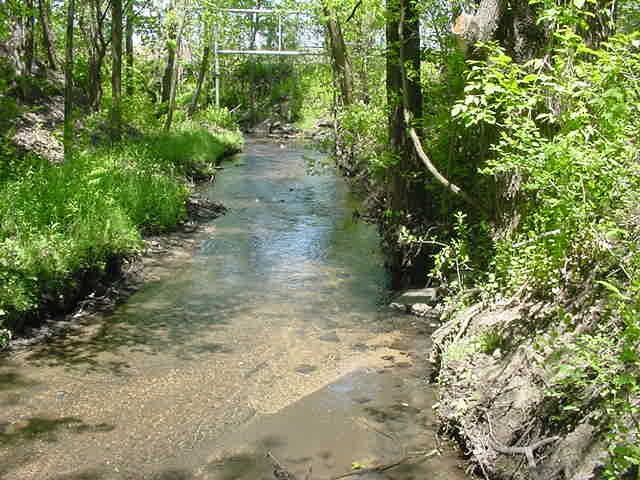 Arcadia Creek by Power Plant
How to increase infiltration and decrease runoff of stormwater
Did you know you can help decrease the amount of stormwater that flows into the drains when it rains? Here are some simple ways you can help:
· Rain gardens (a low depression supporting plants, which can withstand flooding. Rainwater is directed to these gardens to be held and slowly infiltrate into the ground).
· Rain barrels (a container that holds water from your roof downspout during a rain event. During dry weather, you can use this stored water to irrigate your plants/lawn, where it will infiltrate into the ground).
· Limit the amount of impenetrable surfaces in your landscape. Use permeable paving surfaces such as wood decks, bricks, and concrete lattice to let water soak into the ground.
· Allow thick vegetation or buffer strips to grow along waterways to slow runoff and soak up pollutants. Plant trees, shrubs, and ground cover. They will absorb up to 14 times more rainwater than a grass lawn and don't require fertilizer.
· Increasing the amount of surface area on your property that will allow water to sink in driveway swales (depressions planted with vegetation). Swales hold and direct rainwater while removing suspended solids.
· Gutters and down spouts should drain onto vegetated or gravel-filled seepage areas - not directly onto paved surfaces. Splash blocks also help reduce erosion.
· Divert runoff from pavement to grassy, planted or wooded areas of your property, so stormwater can seep slowly into the ground.
· Plant native vegetation (like prairie plants, trees and shrubs) in your yard instead of all grass. These deep-rooted plants allow more water to infiltrate into your lawn, decreasing flooding and runoff. Additionally, native plants are adapted to the area, which means they need less watering, little or no fertilizer and pesticides and provide wildlife habitat.
For more information:
http://www.kalamazooriver.net/pa319new/, http://www.americanforests.org/graytogreen/stormwater/,
http://www.stormh2o.org/,
http://www.forester.net/sw_0203_trees.html,
http://www.gardenwatersaver.com/,
http://www.gardeners.com/,
http://www.rainpail.com/, and
http://www.midwestinternetsales.com/rainbarrels.htm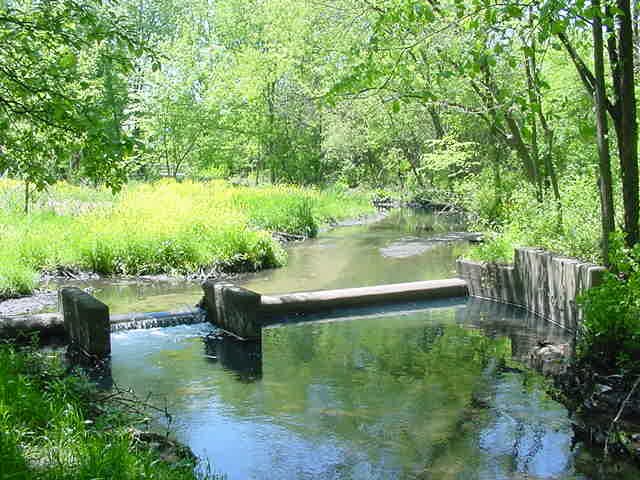 Arcadia Creek by Power Plant
History of Arcadia Creek and the Kalamazoo River
In 1853 Arcadia Creek was called Arcadia Brook on a map made by surveyor Henry Hart (Kalamazoo Public Library- H 912.77417 K15). From 1860 until 1884, the Kalamazoo Steam Brewery was in operation along Arcadia Creek near a pond located where Waldo Stadium is now. The creek was split with one arm going past the Kalamazoo Steam Brewery. The other arm appeared to pass through a factory before the arms met again and crossed the railroad tracks. There were advertisements for the brewery in the 1869-1870 and 1871-1872 Kalamazoo directories, which can be found in the local history section of the Kalamazoo Public Library.
Maps from 1873 and 1890 show that there used to be three ponds or lakes along Arcadia Creek at and east of the WMU Power Plant. However, there was no mapping available from 1873 or 1890 that showed Arcadia Creek west of where the Power Plant currently exists. The first pond, starting from the west, was about where the Power Plant is located today. The map from 1890 did not show the creek existing further east than this pond.
The second pond used to be where the WMU Physical Plant and Waldo Stadium are currently located. However, a map drawn from surveyor John Mullett's notes from 1827 shows no ponds at all. The surveyor's map does show a small stream that flowed from about where the Kalamazoo College Football field is now, down across where the track is and to Arcadia Creek. This small stream is also on the maps from 1873 and 1890. This stream no longer exists.
The third pond on the 1873 map was located between the railroad tracks (which ran from the NE to SW) and Main Street (which runs east and west). Elm Street, which was the closest street to this pond, dead-ended into Main and ran north. On the 1890 map, the pond is no longer in that location, but there was another a little bit west of where the pond used to be. This new pond, or lake, was on the corner of Academy and the railroad tracks, on the property of Kalamazoo College. It was called Mirror Lake. This pond was on the opposite side of the tracks where the other one was just 17 years earlier. However, none of these ponds exist today.
Before the 1930s, there was a horse farm on the property where most of the eastern part of main campus is today. Arcadia Brook (which once flowed to Arcadia Creek) used to cut through that property. The Oaklands was the home of the family that owned the farm. The horses bred at the farm were said to be some of the finest racehorses in the country at the time.
In the 1930s and 40s there was an 18-hole golf course called Arcadia Brook Public Fee Golf Course located on the eastern part of the current main campus along the creek. The clubhouse address was 1659 W. Michigan Avenue. In the 1950 Kalamazoo city directory the address of the clubhouse was Western Michigan College's Temporary Student Housing (1934 and 1950 Kalamazoo City Directories in the Kalamazoo Public Library). In 1950, there was a golf course on the western part of the current main campus. It was located just west of McCracken Hall at 2205 West Michigan Avenue and it was called Gateway Municipal Golf Course, which was adjacent to the creek.
In downtown Kalamazoo, between 1873 and 1890, Arcadia Creek was canalized and made to run underground starting before reaching a housing area on the west side of N. West St. and Cooley St. and then again from N. Rose St. to Harrison St. just before it empties into the Kalamazoo River.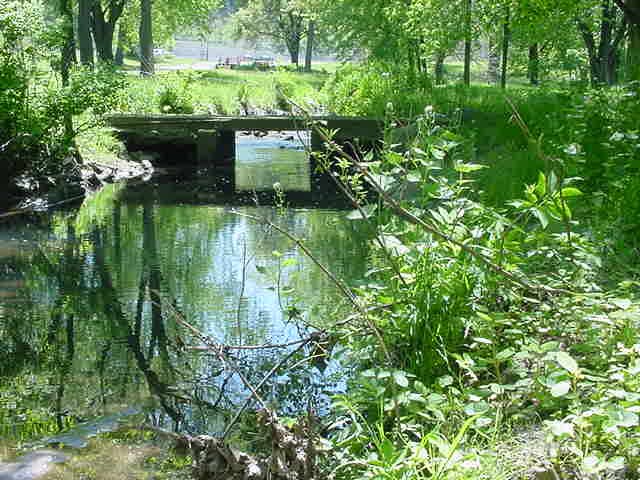 Arcadia Creek by Power Plant
History of the Kalamazoo River
The Kalamazoo River was key to development of Kalamazoo County and was described as follows in the 1854 Michigan Gazetteer:
"KALAMAZOO river, of Michigan, rises in Hillsdale county, in the S. part of the state, and flowing in a W. N.W. direction, enters Lake Michigan in Allegan county, 29 miles S. from Grand River. The whole length is nearly 200 miles, and the width near its mouth is between 300 and 400 feet. It is navigable for boats of 50 tons in all stages to Allegan, a distance of 38 miles. The region through which it flows is nearly level, and the soil is generally fertile."
For more go to http://www.rootsweb.com/~mikalama/kalamazoohistory.htm and http://www.kalamazoomi.com/hisf.htm

Prehistoric Period: Beginning in 1975 Western Michigan University anthropologists conducted field studies at many sites along the length of the Kalamazoo River to learn more about prehistoric human habitation. More than 400 separate sites were identified in Allegan County ranging in evidence of a single item to that of a complete campsite. Results of the study show that humans have used the Kalamazoo River basin continuously for more than 11,000 years. Artifacts from every prehistoric era have been found. Few permanent settlements, however, were found along the river. Studies and historic written records indicate the area was used seasonally for hunting, fishing, and maple sugaring. It is thought that the basin did not have the kinds of soils necessary to encourage permanent settlements. However, from about 700 years ago, there has been some farming by Native Americans.
Historic: Probably the earliest Europeans to glimpse the mouth of the Kalamazoo River were Jesuit Priest Father Jacques Marquette and two companions as they were returning from visiting Indians in Illinois in 1675. Although other missionaries may subsequently have passed the mouth of the River, it wasn't until the late 1700s that the area was frequented by fur traders. By the early 1800s, there were several small communities along the River, including Kalamazoo. Farmers soon replaced fur traders and quickly populated much of the watershed. Many shipped their goods down the River on flat boats to Singapore, established at the mouth of the River in the 1830s. This "bustling port," abandoned in the 1870s, was later buried by the shifting sand dunes. With the introduction of the Railroad in the 1840s, the importance of the River for transportation declined.
By the mid-1800s, several communities had grown up along the River as mill towns and commercial centers: Battle Creek, Kalamazoo, Parchment, Plainwell, and Otsego. After the Civil War and into the 20th century, various industries, from cereal production to pharmaceuticals to automobile parts, flourished. Several communities became sites for paper production, which used the River for water intake and waste discharge. De-inking practices, which are no longer in use, led to PCB contamination of the River. Sewage effluent, other industrial discharges, and trash also contributed to the pollution of the River. For many years in the 1940s, 50s, and 60s, the River was an "eyesore" and most people did their best to avoid it. Beginning in the 1970s with the federal Clean Water Act, serious efforts were made to clean up the River. Although today the River is cleaner, the persistent PCB contamination has led to Superfund designation of a 35-mile section from Kalamazoo to Allegan Dam.
In the fall of 1990, the Kalamazoo River Partners of the Forum for Kalamazoo County conducted interviews with leaders from 33 organizations, representing the interests of business, government, education, recreation, and the general public. The purpose of survey was to inventory existing and proposed development along the river and ask for each community leader's personal visions for the future of the Kalamazoo River.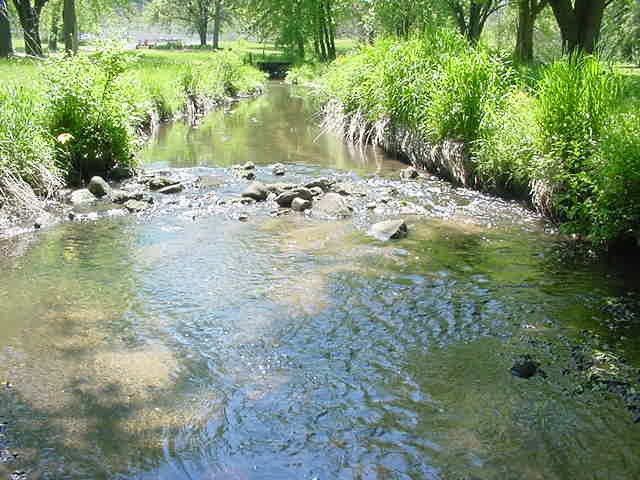 Arcadia Creek by Power Plant

Links